The Civil Aviation Authority of the Cayman Islands (CAACI) recently exhibited at the 71st annual National Business Aviation Association (NBAA) Business Aviation Convention & Exhibition (BACE) tradeshow, which was held at the Orange County Convention Centre in Orlando, Florida. The show attracted over 25,000 attendees and
over 1,100 exhibitors displaying the latest products and services. In addition, more than 100 aircraft were displayed in several locations ‐ a sold‐out static display of aircraft at the Orlando Executive Airport, and also an indoor display inside the convention center and at various exhibitor booths on the show floor. NBAA's Business Aviation Convention & Exhibition is the world's largest business and corporate aviation trade show.
The delegation of Cayman Islands' businesses jointly exhibiting with the CAACI at NBAA included Island Air (local FBO operator and ground handler); local law firm Maples & Calder, the Cayman Islands Airport Authority and the Cayman Enterprise City promoting the Cayman Maritime & Aviation Services Park established in the Special Economic Zone. The Department of Tourism (DOT) and law firm Stuarts Walker Hersant & Humphries supplied general destination informational materials and collateral items.
Each year CAACI extends partnership opportunities with the local business community to offer a prize package for a raffle at NBAA and would like to thank this years' sponsors: Cayman Airways Ltd, Comfort Suites and the Lobster Pot, for kindly donating this year's prize package. Ms. Marilyn Gauthier of Tampa, Florida was the lucky winner of this prize package.
Director‐General, P. H. Richard Smith remarked, "The NBAA 2018 tradeshow is a signature event for the CAACI in the promotion of the Cayman Islands Aircraft Registry and we were happy to have such well‐rounded representation at NBAA, which enabled visitors to our booth to have all questions on company incorporation, financing, legal matters and queries on flying into the jurisdiction answered along with enquiries on the aircraft registration processes."
To review the highlights for this event please visit: https://www.nbaa.org/news/pr/2018/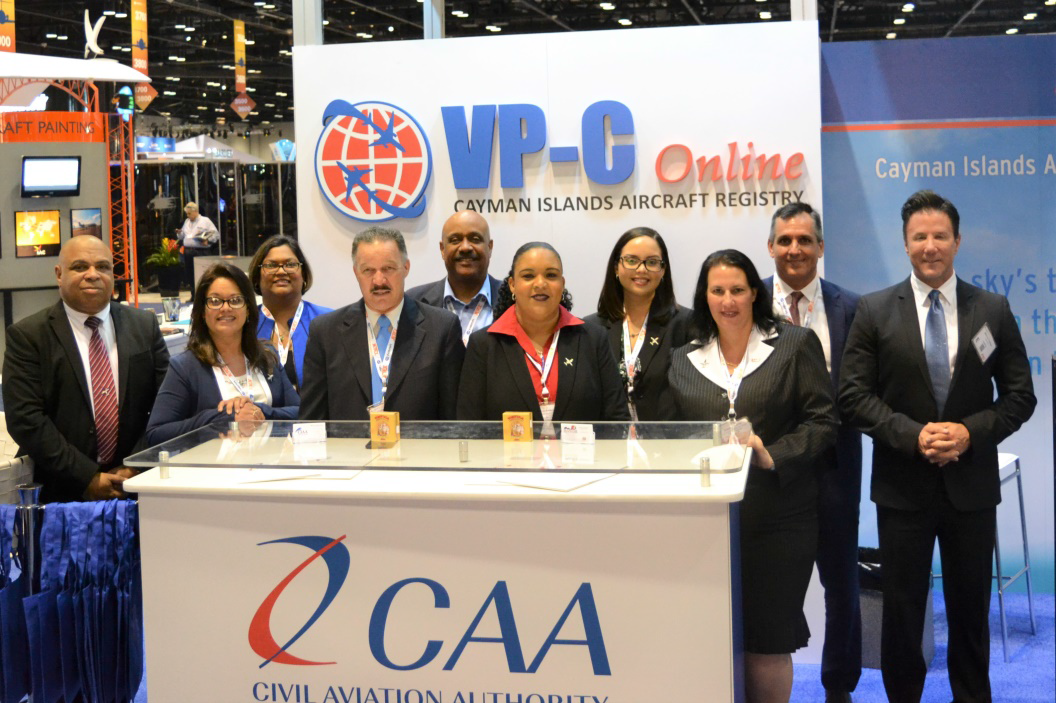 Picture caption:
Group photo of attendees during NBAA 2018:
L‐R (FRONT ROW):– Nicoela McCoy, Richard Smith, Juliet Rankine and Elaine Whorms of the CAACI
L‐R (BACK ROW): ‐ Cydric Desbarida of CAACI, Sherice Arman of Maples & Calder, Albert Anderson
of the CIAA, Bethany Walton of CAACI, Charlie Kirkconnell of CEC and Marcus Cumber of Island Air.
Ends.