FOR IMMEDIATE RELEASE
Contact:
Nicoela (Nikki) McCoy
Deputy Director-General Economic Reg. & Admin
Civil Aviation Authority of the Cayman Islands
P.O. Box 10277 APO, Grand Cayman, Cayman Islands, BWI
Tel: 345-949-7811, ext. 224; Fax: 345-949-0761
E-mail: nikki.mccoy@caacayman.com
SAFETY DURING HER MAJESTY THE QUEEN'S JUBILEE AIR SHOW
George Town, Grand Cayman, (May 24, 2022) – The Civil Aviation Authority of the Cayman Islands (CAACI) in collaboration with the Cayman Islands Coast Guard and the Cayman Islands Port Authority Harbour Patrol would like to advise the public that a maritime exclusion zone will be implemented for the safety of the participants and general public during the H.M. Queen's Jubilee Air Show in Grand Cayman.
The dates/times that the exclusion will be in effect are as follows:
Thursday 02 June 2022, 8:00am -2:00pm (practice day)
Friday 03 June 2022, 8:00am -2:00pm (air show)
Saturday 04 June, 8:00am -2:00pm (weather reserve day)
The air show display exclusion area with coordinates on Seven Mile Beach is as below (and  attached):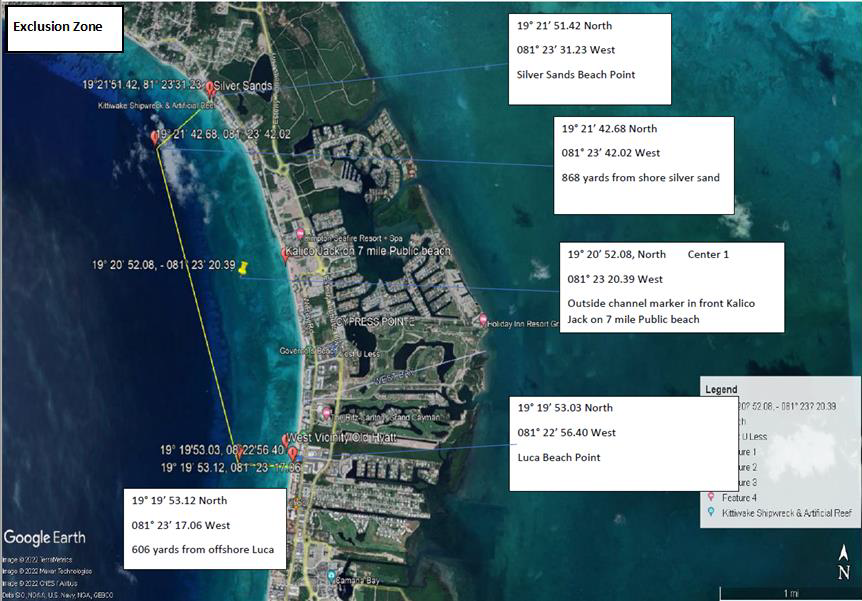 The Coast Guard and Harbour Patrol will be on hand to patrol and enforce the area.
The CAACI would like to wish the public a safe and wonderful long weekend. For any additional information, please email civil.aviation@caacayman or call 949.7811.