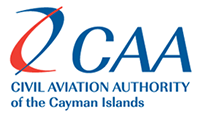 FOR IMMEDIATE RELEASE
Contact:
Nicoela (Nikki) McCoy
Deputy Director-General Economic Reg. & Admin
Civil Aviation Authority of the Cayman Island
P.O. Box 10277 APO, Grand Cayman, Cayman Islands, BWI
Tel: 345-949-7811, ext. 224; Fax: 345-949-0761
E-mail: nikki.mccoy@caacayman.com
 
CAACI donates to R3 Foundation
Grand Cayman, Cayman Islands (7th December 2021) – On Thursday 2nd December the Board, Management and Staff of the Civil Aviation Authority of the Cayman Islands (CAACI) were pleased to present R3 Foundation with a donation as a part of the CAACI seasonal charitable initiative. The CAACI has established a tradition of giving back to the Caymanian community to help those in need each year.
CAACI's Director-General Richard Smith remarked "The CAACI is delighted to continue its support to those who have been impacted by the pandemic throughout our community and in particular at this time of year as we have just celebrated Cayman Thanksgiving and looking forward to the Christmas Season. We are so thankful for organisations such as R3 which are committed to helping those in need. We hope that our donation will aid in the provision of goods and supplies to help lift the spirits of the recipients."
Bryan Hunter, R3 Board Chairman said: "Throughout these unprecedented times, the Cayman Islands community has exemplified courage, compassion and collaboration and the donation from the CAACI is but another example of this. We are grateful for CAACI's generosity and for their trust in the R3 Cayman Foundation. The funds donated will be used by R3 to support local projects that fall within the three Rs of an emergency/disaster cycle: namely Readiness, Relief, and Recovery. As part of our Relief mandate, we will continue to focus on providing support to food, utilities and rent relief programmes for those who have been adversely affected by the Covid-19 pandemic."
Background info to augment:
The CAACI has full designation for safety oversight as a UK OT, and is one of only three OTs to enjoy such delegation. The CAACI is responsible for both technical and economic regulation of the Cayman Islands' aviation industry. In addition, the Cayman Islands is classified as Category 1 by the USA Federal Aviation Administration under their "International Aviation Safety Assessments" programme that evaluates a country's civil aviation authority's ability to effectively regulate its aviation industry. The requirement for such rating lies with the CAACI being assessed as having technically qualified and highly experienced staff to effectively oversee the aviation industry in accordance with established standards and recommended practices of the International Civil Aviation Organisation (ICAO).
About R3:
R3 Cayman Foundation is a private sector-led, charitable organisation focused on disaster Readiness, Relief and Recovery in the Cayman Islands. Our mission is to help our three islands proactively prepare for, resiliently cope with and sustainably recover from manmade or natural emergencies and disasters. Established in 2020, our support enables community partners to maximise their positive impact in our community. To learn more and see our work in action, please visit www.r3foundation.ky.